Tuning impact in Latin America: is there implementation beyond design?
Pablo Beneitone

University of Deusto, Spain

Maria Yarosh

University of Deusto, Spain
Keywords:
impact study, implementation, project evaluation, Tuning, Latin America, Tuning Latin America, competence-based approach, student-centred approach
Abstract
Deusto International Tuning Academy is undertaking a large-scale study to analyse the impact Tuning projects may have had in participating universities. More particularly, the study hopes to provide an unambiguous answer regarding the presence or absence of the implementation of a competence-based student-centred approach in the different world regions where Tuning projects have taken place. The present article focuses only on Latin America where two Tuning projects have been developed. It describes the findings of the first two stages of the study. After reporting the data, the authors argue that there is evidence of a Tuning impact in each of three intended impact domains: (1) understanding of the importance of a shift from content- to competence-based education; (2) provision of institutional support necessary to facilitate this change; and (3) appropriate teaching, learning and assessment within the general framework of the study plans and degree profiles.
Published online: 23 December 2015
Downloads
Download data is not yet available.
References
"What is impact evaluation?", last modified 2011, http://web.worldbank.org/WBSITE/EXTERNAL/TOPICS/EXTPOVERTY/EXTISPMA/0,,menuPK:384339~pagePK:162100~piPK:159310~theSitePK:384329,00.html.
Altbach P. G., Reisberg L., and Rumbley L.E. (2009) Trends in Global Higher Education Tracking an Academic Revolution. A Report Prepared for the UNESCO 2009 World Conference on Higher Education.
Austrian Development Agency, Guidelines for Project and Programme Evaluations. Vienna: Austrian Development Agency, 2009.
Beneitone, Pablo; Esquetini, César; González, Julia; Marty Maletá, Maida; Siufi, Gabriela, and Wagenaar, Robert, eds. Reflection on and Outlook for Higher Education in Latin America. Bilbao: University of Deusto – University of Groningen, 2007.
Beneitone, Pablo; González, Julia and Wagenaar, Robert, eds. Meta-profiles and profiles: a new approach to qualifications in Latin America. Bilbao: University of Deusto, 2014.
Garbarino, Sabine and Holland, Jeremy. Quantitative and Qualitative Methods in Impact Evaluation and Measuring Results, (2009); accessed at http://www.gsdrc.org/docs/open/EIRS4.pdf.
Newcomer, Kathryn E.; Hatry, Harry P., and Wholey, Joseph S., "Planning and Designing Useful Evaluations." In Handbook of Practical Program Evaluation, edited by Kathryn E. Newcomer, Harry P. Hatry, Joseph S. Wholey, 5-29. San Francisco: Jossey-Bass, 2010.
OECD, Glossary of Key Terms in Evaluation and Results Based Management. Paris: OECD Publications, 2010.
_____, Outline of Principles of Impact Evaluation, (n.d.), http://www.oecd.org/dac/evaluation/dcdndep/37671602.pdf.
Stern, Elliot, Impact Evaluation: A Guide for Commissioners and Managers. London: Bond for International Development, 2015.
Stern, Elliot; Stame, Nicoletta; Mayne, John; Forss, Kim; Davies, Rick, and Befani, Barbara, Broadening the Range of Designs and Methods for Impact Evaluations. 2012.
Wheebox, People Strong and the Confederation of Indian Industry (2014) The India Skills Report https://wheebox.com/wheebox/resources/IndiaSkillsReport.pdf.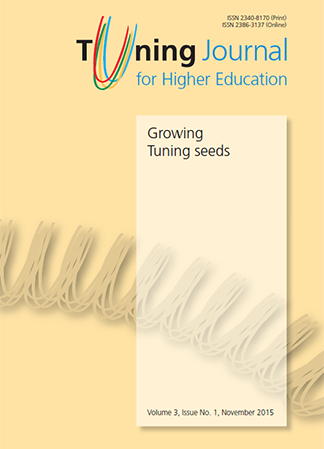 How to Cite
Beneitone, Pablo, and Maria Yarosh. 2015. "Tuning Impact in Latin America: Is There Implementation Beyond Design?". Tuning Journal for Higher Education 3 (1), 187-216. https://doi.org/10.18543/tjhe-3(1)-2015pp187-216.
Authors are required to sign and submit a copyright transfer agreement after acceptance but before publication of their manuscript. To that effect, they receive, from the Managing Editor of Tuning Journal for Higher Education, a standard copyright assignment form designed along the following lines:
1. Authorship:
The author who signs the copyright transfer agreement must be the sole creator of the work or legally acting on behalf of and with the full agreement of all the contributing authors.
2. Copyright and Code of conduct:
a) Authors warrant that their work is original; has not been previously copyrighted or published in any form; is not under consideration for publication elsewhere; its submission and publication do not violate TJHE Ethical Guidelines for Publication and any codes (of conduct), privacy and confidentiality agreements, laws or any rights of any third party; and no publication payment by the Publisher (University of Deusto) is required.
b) Authors are solely liable for the consequences that may arise from third parties' complaints about the submitted manuscript and its publication in Tuning Journal for Higher Education (TJHE).
c) Authors grant to the Publisher the worldwide, sub-licensable, and royalty-free right to exploit the work in all forms and media of expression, now known or developed in the future, for educational and scholarly purposes.
d) Authors retain the right to archive, present, display, distribute, develop, and republish their work (publisher's version) to progress their scientific career provided the original publication source (Tuning Journal) is acknowledged properly and in a way that does not suggest the Publisher endorses them or their use of the wortk.
e) Authors warrant that no permissions or licences of any kind will be granted that might infringe the rights granted to the Publisher.
3. Users:
Tuning Journal for Higher Education is an Open Access publication. Its content is free for full and immediate access, reading, search, download, distribution and reuse in any medium or format only for non-commercial purposes and in compliance with any applicable copyright legislation, without prior permission from the Publisher or the author(s). In any case, proper acknowledgement of the original publication source must be made and any changes to the original work must be indicated clearly and in a manner that does not suggest the author's and or Publisher's endorsement whatsoever. Any other use of its content in any medium or format, now known or developed in the future, requires prior written permission of the copyright holder.