DOI: http://doi.org/10.18543/tjhe
The International Tuning Academy (Tuning Academy, in short) as part of its mission to serve as an international meeting point for innovation and research in Higher Education has established the Tuning Journal for Higher Education (TJHE) (ISSN 2340-8170; e-ISSN 2386-3137). The Journal is an Open Access publication that facilitates the individual and collaborative efforts of hundreds of international researchers who are working to develop innovative and sustainable higher education around the world. The Journal concentrates on the development of degree programmes and the challenges of their recognition, relevance and quality; as well as on teaching, learning and assessment strategies based on a student-centred approach. 
Tuning Journal for Higher Education is published online using the Open Journal Systems (OJS) software that integrates the Open Archive Initiative (OAI) protocol for greater dissemination and transmission of its contents on the internet (http://www.tuningjournal.org/oai).
Tuning Journal for Higher Education is included in: ESCI (WoS), Scopus, ERA, ERIC, DOAJ, Google Scholar,  Microsoft Academic, Dialnet, Dulcinea, MIAR, Sherpa/Romeo, and WorldCat.
The Journal welcomes contributions on the following topics (see more details):
1. Competence-based learning in higher education
2. Academic teachers' professional development and teaching competences
3. Cooperation and partnership building
4. Emergence and development of higher education areas
Vol 7, No 2 (2020): Preparation for the labour market: Strategies to enhance graduate experience and workplace effectiveness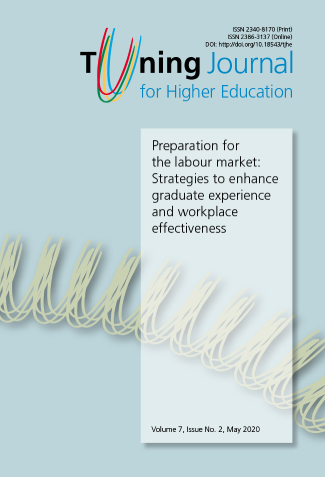 Full Issue
| | |
| --- | --- |
| View or download the full issue | PDF |
Table of Contents
Editorial
Introduction
Articles
| | | |
| --- | --- | --- |
| | Ana María Graffigna Vaggione, Lucía Mabel Ghilardi, María Amelín Dávila | 25-42 |
| | | |
| --- | --- | --- |
| | Roberto Moreno López, Beatriz Esteban Ramiro, Rut Barranco Barroso | 67-89 |
| | | |
| --- | --- | --- |
| | Haifa Fahad Bin Mubayrik | 141-158 |
Editors' Acknowledgements
| | | |
| --- | --- | --- |
| | Editors' Acknowledgements | 345 |