The International Tuning Academy (Tuning Academy in short) as part of its mission to serve as an international meeting point for innovation and research in Higher Education has established the Tuning Journal for Higher Education (TJHE). This Journal will facilitate the collaborative efforts of hundreds of international researchers who are working to develop Tuning in global higher education. The Journal will concentrate on the development of innovative degree programmes and the challenges of their recognition, relevance and quality.
The Journal welcomes contributions on the following topics:
The development, design and level of competence-based educational programmes;
The art of teaching- learning and assessing;
The process, environments and experiences of learning;
The challenge of implementing programmes and associated project and policies.
Current Issue:
Vol 3, No 1 (2015): Growing Tuning seeds
This Issue explores, theoretically and empirically, the actual implementation of the Tuning competence-based approach in different parts of the world and how its impact can be best assessed.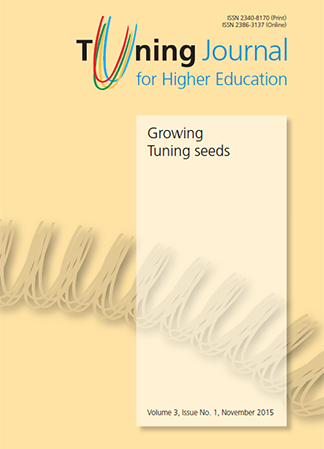 Full Issue
| | |
| --- | --- |
| View or download the full issue | [PDF] |
Table of Contents
Editorial
Editorial

Luigi F. Donà dalle Rose, Anna Serbati

13-15
Articles
| | | |
| --- | --- | --- |
| | Luigi F. Donà dalle Rose | 57-98 |
| | | |
| --- | --- | --- |
| | Darla K. Deardorff | 137-147 |
| | | |
| --- | --- | --- |
| | Artur Demchuk, Yevgeniya Karavaeva, Yelena Kovtun, Svetlana Rodionova | 149-185 |
| | | |
| --- | --- | --- |
| | Pablo Beneitone, Maria Yarosh | 187-216 |
Guidelines for Authors
| | | |
| --- | --- | --- |
| | Guidelines for Authors | 219-221 |
TJHE Ethical Guidelines for Publication
| | | |
| --- | --- | --- |
| | TJHE Ethical Guidelines for Publication | 225-228 |